Illums Bolighus was originally founded in 1925 under the name of BO. The man behind BO was the Danish entrepreneur Kaj Dessau, who was blessed with a strong sense of aesthetics as well as a flair for business. Working with his artistic consultant Brita Drewsen, he created a concept that had never been seen before: a store with arranged and furnished interiors, where textiles, appointments, and furniture all interacted as art. The exceptional foresight displayed by both Drewsen and Dessau, as well as their impeccable sense of style and quality, played an important role in the international acclaim long accorded to Danish interior design.
After the store was purchased in 1941 by the Illum, Berg, and Trock-Jansen families, who also owned the A.C. Illum A/S department store, it was renamed Illums Bolighus A/S. The present building, which with understated extravagance manages to stand out on busy Amagertorv in the heart of Copenhagen, was designed in 1961 by Kay Kørbing, a renowned architect and Member of the Architects' Association in Denmark. The trendsetting and visionary display windows of Illums Bolighus have always been a feature of the store, which has reflected social development and progress ever since it opened as BO in 1925. These windows also serve to illustrate Illums Bolighus' business concept: an attractive and inspirational shopping environment that is always at the cutting edge of both fashion and societal mores.
Illums Bolighus no longer has ties of any sort with the Illum department store.
Illums Bolighus is now owned by a Danish investment group headed by CEO Henrik Ypkendanz. Since his appointment to that position in 2001, the store has enjoyed a positive development in customer reviews and increased profitability. Illums Bolighus now have stores in Norway, Sweden and Germany.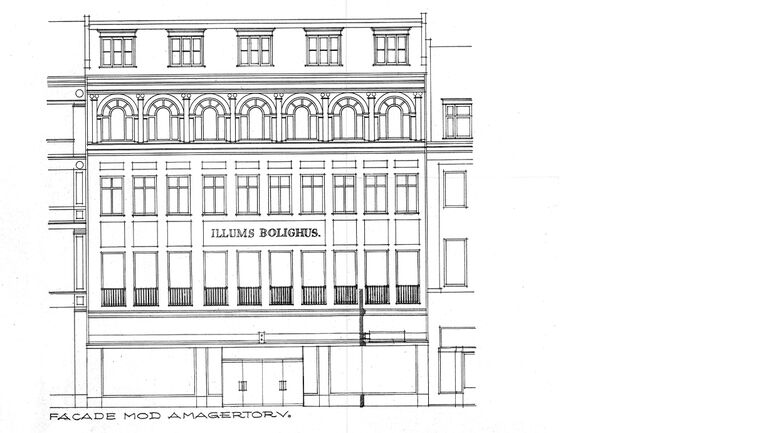 Amagertorv
Architect MAA Kay Kørbing designed the facade of Illums Bolighus in 1961, stylish and classic with an understated extravagance on the busy square of Amagertorv in the heart of Copenhagen.